Communications and Institutional Advancement
The Division of Institutional Advancement promotes student success by supporting institutional initiatives that foster growth and continuous improvement. The departments of Research and Institutional Effectiveness, Grants Development, Student Success, and Planning and Accreditation collaborate with a broad base of institutional departments to advance Triton College's strategic goals. The division contributes to increasing college readiness, improving completion, and closing skill gaps by identifying funding opportunities, providing high-quality and meaningful data analysis, and maintaining educational and operational standards that ensure educational quality.
---
Associate Vice President of Communications & Institutional Advancement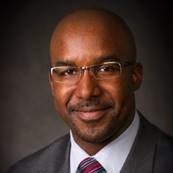 Derrell Carter was appointed Associate Vice President of Communications and Institutional Advancement at Triton College in October 2018. Carter has more than two decades of corporate communications, marketing and business experience in both agency and corporate settings across a diverse set of industries including aerospace and defense, consumer products, energy, financial services, healthcare and manufacturing.
Carter's work has merited the S&P Global Platts Marketing Campaign of the Year award, as well as Silver and Bronze Quills from the International Association of Business Communicators, Webby Awards and recognition from the National Investor Relations Institute-Chicago Chapter.
Carter received his Bachelors and Masters of Arts degrees from Webster University in Public Relations and Media Communications respectively, as well as his Masters of Science in Finance. He earned his MBA from the University of Missouri-St. Louis, and a Masters in Political Management from George Washington University.
---
Derrell Carter
AVP, Communications & Institutional Advancement
708-456-0300, Ext. 3434
derrellcarter@triton.edu
Derrell Carter
AVP, Communications & Institutional Advancement
708-456-0300, Ext. 3434
derrellcarter@triton.edu
Sacella M. Smith, M.S.
Executive Director, Dept. of Grants Development
708-456-0300 Ext. 3022
sacellasmith@triton.edu
Kurian Tharakunnel
Executive Director, Research and Institutional Effectiveness
(708) 456-0300, Ext. 3635
kuriantharakunnel@triton.edu
Shelley Tiwari
Director, Faculty Development & Student Success
(708) 456-0300 Ext. 3761
shelleytiwari@triton.edu